Dog Sleeping Positions Meaning (10 Best Dog Sleeping Habits)
Dogs Sleeping Positions and What They Mean With Pattern, Behavior, & Healthy Amount of Dog Sleeping.
You can get a lot of information from the dog's sleeping position. The sleeping position of the dog reveals what he is thinking, what he is feeling, how his health is, and even his personality. Through dog sleeping positions meaning, what science says here, we will make in today's discussion. Besides, there are also discussed the behavior and pattern of dog's sleeping, as well as the amount of healthy sleeping of dogs.
Dog Sleeping Positions Meaning:
---
Dog sleeps with legs straight out, lays flat on stomach, between legs, cuddling positions mean, snuggle up, sprawl out, head-neck raise, etc. different things will describe here to you so that you're able to conceive a great knowledge about it. Let's start the discussion.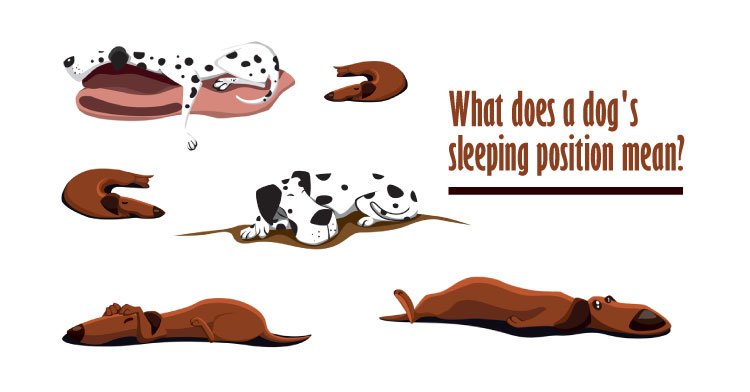 1. Curled Up or Donut Position:
When your dog sleeps securely, when its tail moves close to its head, this kind of secure sleeping of the dog is called curled up or donut position.
Why do dogs curl up next to you? When a dog sleeps like this, the requirement of heat comes into his body. And his body has to be warmed. By sleeping in this way, he also protects different organs of his body. Dogs sleep more like this when the weather is cold, again you will notice that dogs of the fall season are more likely to sleep like this. This is how a dog sleeps when it gets cold, when it goes to an unfamiliar place, or when it feels the need to protect itself.
In the jangle, animals sleep this way most of the time, because they need to warm their bodies, they need to protect their organs because they can be attacked at any time. And that's why protection is important and they need to protect themselves, and that's why they sleep like this.
2. On the Back or Belly Up or Paws Up in the Air Position:
When a dog's back is down and on its belly up, this time it has two legs slightly folded in front of it, this is called on the back or belly up or crazy legs or paws up in the air dog sleeping position. It is a funny position for a dog sleeping.
Why does my dog sleep on his back with his legs in the air? Thus the dog lies down when he is very confident. This dog trusts you a lot. The environment in which he is sleeping like this, that environment is very confident, here he is very happy, and he thinks it is his own environment. Therefore, if your dog sleeps like this at home again, he trusts you a lot and he thinks of your house as his own.
Sometimes the dog sleeps in this position when it feels hot, it needs air and can easily get air in its body. And if he sleeps in this way, his belly, chest, legs, and other parts of his body can get air. Which can keep his body temperature tolerable.
3. Cuddle Bug or Back-to-Back or Snuggled Up Position:
In the cuddle, the dog sleeps close to you. Lie on your back with his back. Why do dogs cuddle with each other? When the dog was a puppy, it was his habit to lie down side by side with his siblings. Because at that time the efficiency of controlling the body temperature was low, so they kept the body temperature balanced by lying down. And this habit stays with many dogs even when they grow up, which is why they like to lie down with you.
If your dog sleeps close to you or sleeps with his back against your back, it means that the dog thinks you are like him, thinks you are one of his family and trusts you a lot.
4. Superman or Sprawled Out Position:
When the dog is lying on its chest with its front legs extended towards the front and its back legs extended towards the back, it looks a lot like a flying superhero Superman. This is also a funny of the dog's sleeping positions. The dog does not sleep in this position, he takes a light nap at this time.
This condition of the dog makes it much easier to stand on its legs. If the dog hears any noise while giving a nap, he gets up immediately. You will never see a dog sleeping like this at night. And if you notice that at night, assume the dog is done sleeping, he is taking a light nap now and is ready to get up.
Sleeping this way can have another meaning, which is that your dog wants to play now, he wants you to call him and play with him.
5. Side Sleeping Position:
Side sleeping is very common in dog sleeping positions. When your dog is lying this way, that means he is very comfortable, relaxed, and has a lot of trust in his owner, he has no worries. You and I are used to seeing dogs sleeping like this.
6. Lion Pose Position:
In the lion pose position, the dog lies on its chest. At this time his face is lightly curled and his head rests on his two front legs. The meaning of the name of this position is that a lion sleeps the way it sleeps.
This means that your dog has his eyes closed and is lying down, but he is also alert for anything at any time. Honestly, the dog does not sleep in this position but he takes a rest. That means he is on alert in the resting position.
7. Lay on Your Cloth:
When your dog is lying on your clothes, it means your dog wants to be very close to you, miss you a lot, wants to sleep with you, and so on. This is because the smell of your body is mixed with your clothes, the smell that he wants to keep so that he feels that you are closer to him.
8. Belly Curl or Tummy Sleeper Position:
When a dog lies on its stomach and its two front paws are tucked backward, its name is belly curl or tummy sleeper position. This tight position is not comfortable for your dog. So, you can disappoint the pet to leave this behavior. Many vets also say this.
9. Head and Neck Raised Position:
When a dog's head and neck are raised on a pillow or a surface in sleeping, it calls the head and neck raised position. It is a sign of a bad situation for your dog. By this position, you seem your dog has issues properly breathing. And it may be affected by some chronic heart disease. In this situation, you should contact your vet.
10. On the Cold Surface Position:
When a dog keeps its belly on a cold surface (If there is a high place, then the legs are hanging), it is called on a cold surface position. After becoming too hot for a dog's boy, he takes this position to reduce the temperature.
Behavior and Pattern of Dog's Sleeping:
---
You may notice the snoring, barking, or even twice in the dog's sleeping. These things are normal. You should not worry to see it. Let's learn the meaning of these signs.
DREAMING: Yes, dogs can dream too! It's hard to reveal exactly how dogs dream. We know that waking events process in sleep, so it can be said that dogs can also have dreams.
TWITCHING: Dogs, like humans, can feel the twitch of sleep. So twitch is a normal occurrence of sleep.
BARKING: If the dog barks in his sleep, there is no reason to worry. This may be the manifestation of something dreaming.
SNORING: Like humans, dogs snore in their sleep. However, not all dogs snore. Bulldogs, Boxers, Pugs, etc. these dogs are famous for sniffing. These dogs are also famous for huge jowls. However, sometimes the dog can snore due to interior physical problems.
DIGGING or CIRCLING: Some breeds of dogs will circle or dig the place before sleeping to make the sleep comfortable. This is done to remove excess leaves, snow, or gravel in the area.
Amount of Sleep Healthy for Dog:
---
Rachel Kinsman, Sara Owczarczak-Garstecka, Rachel Casey, Toby Knowles, Séverine Tasker, Joshua Woodward, Rosa Da Costa, and Jane Murray, they've researched together. From their research paper, we can know the following result.
Dogs sleep much more than humans. Now you can ask how much dogs sleep. An adult dog usually sleeps about 8 to 13.5 hours daily. Larger dogs have more naps than smaller dogs. And puppies need 18 to 19 hours of sleep daily. Usually, if they stay awake for an hour, they sleep for a few hours.
So you should keep an eye on the amount of sleep the dog gets. If you notice any major changes in her sleep patterns, be sure to contact your vet.
Final Verdict of the Article:
Dear Readers, We hope that you have learned a lot of things about the dog sleeping positions meaning today. From now on, whenever you see your dog lying down or sleeping, you will understand how your dog feels, what he is thinking, and how he is. You will also find out how much sleep is best for your dog. For more interesting, informative, and significant information about this type of dog, visit my official site regularly. Thanks.